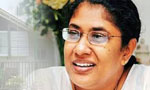 Foreign Employment Minister Thalatha Athukorale today said that her allegations were focused on the Foreign Employment Bureau and not on the then Minister Dilan Perera.
Ms. Athukorala revealed that some irregularities had taken place at the Foreign Employment Bureau, while addressing an event organised by the Federation of University Women recently.
"I cannot tell Mr. Dilan Perera to take the responsibility of these irregularities. These have been done by the Bureau officials," she said.
The former Foreign Employment Minister Dilan Perera recently joined the coalition government and was named as the State Minister for Housing and Samurdhi.
The irregularities include a spending of Rs. 12.6 million to lay the foundation for a training centre, Rs. 5.6 m for a devotional song recital team during the last Vesak season, Rs. 3.5 m for an alms giving and Rs. 1.1 m on a Christmas party last year while the Bureau of Foreign Employment had spent Rs. 36.2 m on its publicity campaign.
She also said that bringing the ministry back on the correct path cannot be done in a few months, as the other officials still remain, in spite of a change in the ministerial post.
(Piyumi Fonseka)