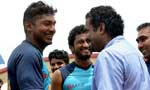 New Delhi:
Sri Lankan cricket legend Sanath Jayasuriya on Wednesday said recently-retired wicketkeeper-batsman Kumar Sangakkara is "irreplaceable" for the team.
Sangakkara played his last match for Sri Lanka in the second Test against India that concluded on Monday. The prolific left-hander is only second to Indian great Sachin Tendulkar to score maximum runs across all the three formats. While the 37-year-old has 28,016 runs, Tendulkar accumulated 34,357 runs during his illustrious career.
Sangakkara made his One-Day International (ODI) and Test debut in 2000 under the captaincy of Jayasuriya, now 46.(Kohli Salutes Sangakkara)
Asked who can replace the former captain, Jayasiriya said on the sidelines of the launch of the STAIRS School Football League (SSFL) here: "No one can replace him. You can't replace a player like him. Sangakkara, Mahela Jayawardena and (Tilakaratne) Dilshan are irreplaceable."(Gavaskar Hails Sangakkara)
However, the former left-hander, a trend-setter in modern-day ODI batting, felt that Sri Lankan batting line-up has some talented batsmen who need to step up in order to take the side forward following the departures of the famed trinity.
"It is time that young players -- the likes of (Lahiru) Thirimanne, (Dinesh) Chandimal, (Angelo Mathews) improve their game and take the responsibility in taking the team ahead," Jayasuriya, who scored 6,973 runs in 110 Tests and 13,430 in 445 ODIs, said in his message for his country's youngsters.
Coming to the ongoing three-match Test series between the hosts Sri Lanka and India, Jayasuriya, one of the heroes of the Islanders' 1996 World Cup winning team, said Mathews' men will have to work hard to get back into the series. At the moment, the series is tied 1-1 with the third match beginning from Friday in Colombo.
"India dominated several sessions in the first Test and it was great to see Sri Lanka turn it around and claim the match. And it was impressive to see how India came back in the second Test. They again proved stronger."
"They put up a very good first innings score and backed it up well in the second innings too with (Murali) Vijay and (Ajinkya) Rahane playing well. Their bowlers, especially (Ravichandran) Ashwin performed exceptionally well for a very big win."
"For the next match, I hope Sri Lanka put up a strong fight but they will have to work hard," he added.
When asked about the Indian batsmen struggle against spin bowling, Jayasuriya said that his compatriots are struggling more than the visitors. He said the series has witnessed some very good spinners like Ashwin, Amit Mishra and Rangana Herath in action, making it difficult for the batsmen.
Jayasuriya also said that with more experience India Test skipper Virat Kohli will improve as a captain.
"Captaincy is not an easy thing. He is doing well and I am sure he will improve with more experience. He is young and give him some time, he will do well," Jayasuriya, who has 323 ODI and 98 Test wickets, said.
Asked about Kohli's five bowlers strategy, Jayasuriya, lovingly called the 'Matara Marauder', said: "It depends upon the captain. And the situation demands, there is nothing wrong about it."
(ndtv sports)