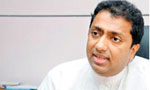 The United National Party (UNP) today said benefits given to former President Mahinda Rajapska as a retired Head of State should be taken back if he makes a comeback to politics.
UNP Deputy General Secretary
Akila Viraj Kariyawasam
told a news briefing that the former President is no longer legally entitled to all benefits which a retired Head of State.
Mr. Kariyawasam said he will not be affected at all as a UNP candidate for the Kurunegala District, even Mahind Rajapaksa contests from the same district. "Former President will be welcomed to contest from Kurunegala District," he said while charging that he is facing an issue contesting from the Hambantota District.
The MP said the former President cannot contest from Hambantota as his son, former MP Namal Rajapaksa would be defeated if he wins. " If the father wins, the son will lose, and therefore, the father will not contest from Hambantota," he added.
Meanwhile, former Deputy Minister Earn Wickramaratne said the theme of the UNP campaign will be 'Enna' (come) which is a call for people to join in the journey towards freedom.
(Yohan Perera)