---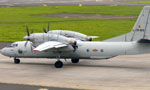 In the wake of today's crash of an Antonov-32 aircraft in Hokandara, the Air Force said it had grounded the other Antonov aircraft until the cause of the crash was ascertained.
Four airmen were killed and one injured in the early morning crash.

"For the time being we have halted the operations by the four remaining AN-32 aircraft until we determine the cause of the crash," Air Force Aeronautical Engineering Director Ajantha Silva told a news conference today.