---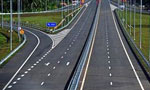 A fine of Rs. 2.18 million was recovered by the Road Development Authority for the damage caused to the protective fence of the Southern Expressway by a heavy vehicle transporting gas cylinders recently.
The accident had caused extensive damage to the protective fence at the 59.6 kilometre post between Welipenna and Kurundugahahetepma entrances.
Southern Expressway police said it was the highest ever fine imposed for the damage caused to the property in the expressway. The fine was levied from the LP gas distributing company in Colombo. Police said the vehicle and the 987 gas cylinders were released after the fine was paid.
(Janath De Silva)