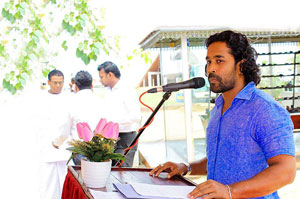 Ratgama Pradeshiya Sabha Chairman Manoj Mendis is reported to have been shot dead by some yet unidentified assailants at a tourist hotel in Wewala at Hikkaduwa on last night.
Two others who were with Mr. Mendis at the time were seriously injured in the shooting. They were rushed to the Karapitiya Hospital but the Chairman had died on admission. One of the injured, in a critical condition had admitted to the ICU and the other injured was admitted to the ward No. 6 for further treatments.
Police said the preliminary investigations at the crime scene had revealed that the assailants had most probably used an automatic weapon in the shooting.
A senior police official said the Chairman had been a suspect in several cases pending in the Balapitiya and the Galle Magistrate's Courts in connection politically motivated killings and other unruly incidents during the election campaign.
He said it was too early to say who might have carried out the killing and the motive for it. The Police officer said the detectives would also focus attention on sand mining disputes in Molaoya in Totagamuwa and in Ratgama as being a possible motive.
The Police officer said none of the eye witnesses seemed to be prepared to give evidence and this was an obstacle to the ongoing investigations.
The Police did not receive any information about the incident but suspected that the shooting was done by a pistol before the gang fled the scene.
Five police teams including those from Galle, Rathgama, Hikkaduwa and Aluthgama have been deployed together with intelligence in search of four suspects.
Hikkaduwa police are conducting further investigations. (Chaturanga Pradeep)