---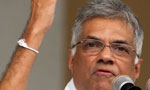 Prime Minister Ranil Wickremesinghe challenged former president Mahinda Rajapaksa to defeat him if possible after securing the prime ministerial candidature.
Unless he can take up this challenge, Mr. Rajapaksa and his henchmen should stay confined to their houses and not contest, he said.
He made this observation at a meeting in Dambulla.
"I do not know whether he will accept the challenge or run away from it," he said.
He said LTTE leader Velupillai Prabhakaran was no longer there to bail out Mr. Rajapaksa at an election.
He said he was ready for the electoral battle.
(Sujith Mangala)