---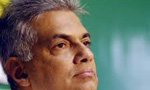 Opposition Leader Ranil Wickremesinghe today requested all Sri Lankans to come forward and help the victims of the Haldummulla landslide tragedy in which many people were killed.
Expressing his sorrow over the Haldummulla tragedy in a media statement he said that all should come together without any ethnic, religious or political barriers to do the best to our brothers and sisters in need.
"It is a responsibility of everyone to provide assistance to our own people who are in a helpless situation," he said in a special statement.
He said that he had raised the issue in the Parliament this morning and inquired about the incident in Meeriyabedda, Haldummulla.
The Parliament had not been officially informed about the tragedy when the statement was issued, he said.