---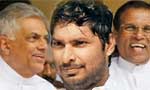 President Maithripala Sirisena and Prime Minister Ranil Wickremesinghe are likely to be present at P Sara Oval Stadium in Colombo today to pay tribute to retiring cricket legend Kumar Sangakkara.
"After eight relaxed days of entering the Sri Lankan stadiums, suddenly we went through a massive security drill - like Indian-style frisking and checking," Sharda Ugra, a senior sports news editor reported in ESPN.
Kumar Sangakkara, who got out for 18 in his final Test innings, retires as the fifth-highest run-getter in Test Cricket format. Today's cricket encounter will be Sangakkkara's final Test match.