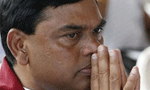 Former Economic Development Minister and then influential politician Basil Rajapaksa is to be grilled in connection with a series of major corruption cases amounting to millions of rupees being investigated by the Police Financial Fraud Investigation Division.
The FFID investigating into several major cases related to the Divi Neguma Department which functioned under the Ministry of Economic Development requires the subject minister to record a statement over various allegations levelled against him.
The police will seek a court order to get Mr. Rajapaksa who is believed to be living in the US enjoying a three-month vacation approved by Parliament.
Police Spokesman ASP Ruwan Gunasekara said today the former Minister's statement is required following the allegations made by the Director General of the Divi Neguma Department in his recent statement to the FFID.
Director General R.R.K. Ranawaka when interrogated by the FFID revealed that it was the then Minister Rajapaksa who ordered him to release large sums of money for various programmes during the past few years.
The FFID is investigating the major expenses incurred by the department including money spent for the Presidential Election, an allowance paid to Divi Neguma officers, renovation of houses and spending more than Rs.70 million to a Divi Neguma national convention headed by the Minister.
Rs.300,000 had been spent to transport three officers from Ampara to Colombo for this convention.
The police have already informed Kaduwela Magistrate's Court for the necessity to record a statement from Mr. Rajapaksa while filing a facts report.
He left the country from the Bandaranaike International Airport with his spouse a day after the results of the presidential election was announced.
(Kurulu Koojana Kariyakarawana and Sanath Desmond)