---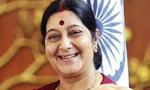 Indian External Affairs Minister Sushma Swaraj said on Wednesday that whenever the Indian fishermen were detained by the Sri Lankan authorities, they were treated in a humane and pragmatic manner and were released expeditiously.
"Whenever such incidents of attack and consequent detention of our fishermen by the Sri Lankan authorities are reported, Government, through diplomatic channels, immediately takes up the matter with the Government of Sri Lanka to ensure that the Sri Lankan authorities act with restraint, our fishermen are treated in a humane and pragmatic manner and are released expeditiously," she said.
She also said that the Indian Government attached the highest importance to the safety, security and welfare of Indian fishermen and continued to remain engaged with the Government of Sri Lanka so as to ensure that fishermen from both sides could continue to pursue their livelihood in a safe, secure and sustainable manner.
"We consider the matter as essentially humanitarian in nature involving the livelihood of our fishermen community," she said in the Lok Sabha in her response to a Calling Attention Notice tabled by some members on the alleged abduction and harassment meted out to fishermen from Tamil Nadu by Sri Lankan Navy personnel and the steps taken by the Government in this regard.
Ms Swaraj said that it was because of the priority attached to the issue by the Government that the matter was raised at the highest level by Prime Minister Narendra Modi in his very first meeting with Sri Lankan President Mahinda Rajapaksa on May 27 this year, a day after assuming office.
She said that the two leaders had, at their meetings in New York in September and in Kathmandu in November, reiterated the urgent need for finding a permanent solution to the problem. She said she had also discussed the matter in great detail with her Sri Lankan counterpart G L Peiris during his visit here on July 11.
Ms Swaraj recalled that the recent incident involving the apprehension and award of death sentence to five Indian fishermen on October 30 had been successfully resolved following sustained efforts by Government, including at the highest level, when on November 19 the Sri Lankan President granted full remission of the sentence of all five fishermen. These five fishermen have since returned back to their families in India.
She said that, following the October 2008 understanding between the two countries on practical arrangements to deal with bonafide India and Sri Lankan fishermen crossing the International Maritime Boundary Line, the incidents of attack had come down significantly. No loss of life of Indian fishermen in Sri Lankan waters has been reported since April 2011.
"Furthermore, Government, as a result of its consistent efforts, has secured release of 706 Indian fishermen in custody of Sri Lanka in 2014. As on date, 38 India fishermen along with 82 fishing vessels are in custody of Sri Lanka on charges of fishery related violations. As I speak, we are working towards their early release and repatriation," she said.

On the institutional side, at the 4th meeting of the India-Sri Lanka Joint Working Group on Fisheries held in January 2012 in Colombo, both sides reiterated the highest priority accorded by their respective Governments to the well being, safety and security of fishermen from the two countries. Both countries agreed that the use of force could not be justified under any circumstances, and reiterated in this regard the importance of extending humane treatment to all fishermen.
The newly constituted India-Sri Lanka Joint Committee on Fisheries related issues held its first meeting in New Delhi on August 29. Additionally, Fishermen Association level talks were held twice in 2014, the first in January this year in Chennai and the second on May 12 in Colombo, she said.
Ms Swaraj also mentioned a recent case of November 26, when three fishermen belonging to Nagapattinam district of Tamil Nadu unknowingly drifted in their damaged boat to the Sri Lankan coast owing to inclement weather. These fishermen were rescued and provided relief along with repair of their fishing vessel by the Sri Lankan Navy and have been repatriated to India on December 8, she said.
"Let me assure the Members that the Government is steadfastly working, in close cooperation, with the relevant stakeholders in finding a long term solution to this issue, which would involve migration of our fishermen to deep sea fishing. In this context, I would like to mention that Government has simplified and streamlined the guidelines for fishing operations in the Indian Exclusive Economic Zone to create an enabling environment.
"Further for the safety and security of our fishermen, a proposal involving the development of a National AIS (Automatic Identification System) Network for effective tacking of small fishing vessels fitted with customized AIS transponders and having early warning system on International Maritime Boundary Line is also being actively explored," she added.(net Indian)