---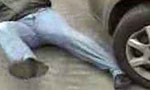 A 20-year-old man was run over by a pickup yesterday in Galnewa, the Police said.
Police Spokesman ASP Ruwan Gunasekera said the victim was believed to have travelled sitting on the bonnet of the vehicle and had fallen off and run over.
It is reported that there were four people in the pickup, including the driver.
The cab vehicle was taken into Police custody and other three passengers were still at large, he said.
The victim was a supporter of the United People's Freedom Alliance (UPFA) and was had died before the admission to the Tambuththegama Hospital, he said.
The incident had occurred near the Dewalaya in Makulewa area in Galnewa.
(Chaturanga Pradeep)