---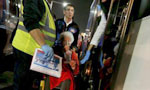 One person is dead and more than a dozen injured after the massive fire overtook the Address Downtown hotel in Dubai, just hours before a New Year's Eve fireworks display went off nearby, the National Post reported.

The fire erupted in the Downtown hotel, where thousands of people have gathered to watch the fireworks.

The 63-storey hotel and residence is close to the world-famous Burj Khalifa, the largest skyscraper in the world, where the fireworks displays were set to go off.

Officials initially said there were only minor injuries, but one person is now reported dead as a result of a heart attack or stroke suffered amid the chaos.

Officials also confirmed 14 minor injuries as a result of the blaze, as well as one "moderate injury" and the heart attack, but said all victims received medical attention.

They said the reported injuries were a result of overcrowding at the site and smoke. No children were hurt.