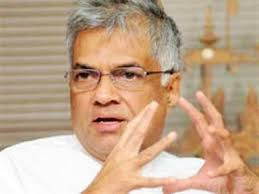 The Government is hoping to re-introduce the Parliamentary Committee System after the upcoming general election, Prime Minister Ranil Wickremesinghe said today.
He said this committee system was introduced to Sri Lanka by the Donoughmore Constitution in 1931 and it existed till 1947.
Premier Wickremesinghe made these comments at a ceremony held at Temple Trees last morning to distribute motorcycles to local government members.
He said the appointment of ministers from the Sri Lanka Freedom Party (SLFP) was to see how the political parties could work together and pointed out that these parties could play a role in governance after the next elections by participating in the Parliamentary Committee System.
"Under this system some of the political party representatives will be appointed as ministers and deputy ministers while those members who do not accept portfolios can head the 20 new parliamentary committees. The the cinisters and the Committee Chiefs will meet from time to time and take policy decisions. These committees will be given the responsibility to take such policy decisions," he said.
Justifying the appointment of Sri Lanka Freedom Party (SLFP) MPs as Ministers, the Prime Minister said President Maithripala Sirisena had no choice but to give them ministerial portfolios as they were the ones currently in Parliament.
"President has to appoint those in Parliament as ministers according to the constitution," the Prime Minister said
He said appointing of SLFPers as Ministers was not a new thing as they were offered portfolios in January prior to the forming of the new government. "We offered them portfolios but they were not ready to accept them at that time," he said.
Public Administration Minister Karu Jayasuriya said the government's intention was to provide motorcycles to all local government members irrespective of the party they represented.
Finance Minister Ravi Karunanayake pledged that all development work which have been put on hold would resume soon before the end of the 100-day programme.
(Yohan Perera)