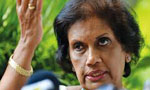 Former President Chandrika Kumaratunga today said she had no intentions to come back into power or grab power.
Addressing journalists during a visit to Kandy, where the former President took part in religious ceremonies to mark her 70th birthday and to pay her respects to the Mahanayake Theras of the Malwatte and Asgiriya chapters, she said was not greedy to grab power or come back into power like others.
"Those who are making every effort to come into power are those who have 'robbed ' the country and are trying to come into power so that they could cover up those illegal acts," she told the media.
She said she was in power for 12 years and she stepped down on her own will. She added that she had not 'robbed ' the monies of the people and insisted that she gracefully left the office. She said she had not 'killed ' anyone abused her power to get anything.
She declined to respond to a question whether nominations would be given to the former President. Replying to another question, she said it was not at all important to speak about Wimal Weerawansa and said she nor her party would take serious note of him.
(L.B.Senaratne and J.A.L.Jayasinghe)