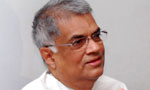 Prime Minister Ranil Wickremesinghe said in Parliament yesterday that there was no legal impediment for the appointment of Arjuna Mahendran as the Central Bank Governor.
The Prime Minister was responding to Mahajana Eksath Peramuna (MEP) Leader Dinesh Gunawardane, who questioned the eligibility of Mr. Mahendran to hold such a post as a Singaporean citizen.
The Prime Minister said the criterion, to be followed in the appointment of the Monetary Board and the Central Bank Governor, had been laid down in the Finance Act.
He said a Parliamentarian or a Provincial Council member could not be appointed to the post according to the law. A government official or a judicial officer could also not be appointed at the same time, he noted.
Explaining the criteria, he said it had not been stipulated that a foreign national should not be appointed.
"Some, using the media favouring them, carry out a campaign that the appointment of Arjuna Mahendran has triggered a crisis in the international arena. Yet, it does not seem to be true when examining the international transactions of the Central Bank," he said.
Mr. Wickremesinghe said these critiques remained tight lipped, when the public wealth was plundered with the involvement of foreign nationals at that time.
"You are opposed when a foreign citizen is used to curb corruption, to protect public wealth and state resources," he said.
Mr. Mahendran is born, raised and educated in Sri Lanka. He had served in the Central Bank for 11 years.
"After that, he held key positions both in the government and private sectors. In 2002, he was the Chairman of Board of Investment. At that time Prof. G.L. Peiris who held ministerial posts under different governments, was the subject minister. He left the country because of the Rajapaksa regime. Therefore, former President Mahinda Rajapaksa should be held responsible for it," he said.
Also, the Prime Minister said not only Mr. Mahendran but also many others had to leave the country during the Rajapaksa regime started in 2006.
He said the situation was even worse for minority communities.
"We lost our Tamil friends Joseph Pararajasingham, N. Raviraj and T. Maheswaran. There was terror in the country at that time," he said.
(Kelum Bandara and Yohan Perera)