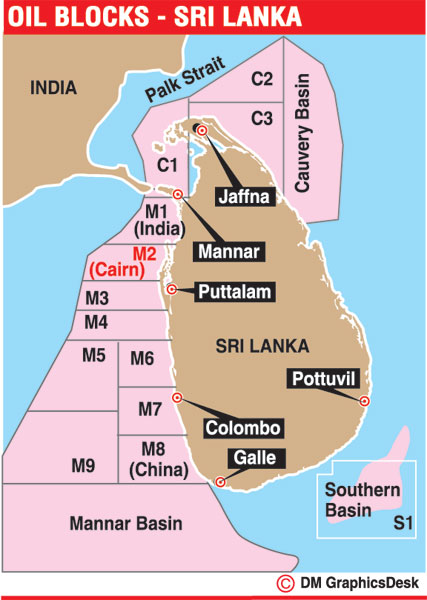 Against the backdrop of Sri Lanka going for a second licensing round to auction more blocks, the fourth well drilled in Sri Lanka's Mannar basin by Cairn Lanka, a fully owned subsidiary of Cairn India, has been plugged and abandoned as a dry hole.
"The well was plugged and abandoned and the rig is being demobilised. The Petroleum Resourced Development Secretariat (PRDS) is being notified," said Cairn India in a statement.
It further noted that they encountered multiple thick high quality reservoir sands, which were not hydrocarbon bearing.
Cairn Lanka entered into the second phase of oil exploration in the Mannar basin with the drilling of the fourth well on February 2, three months before the scheduled date due to the early availability of a rig.
In a recent Interview with Daily Mirror, Cairn India and Cairn Lanka Director Sunil Bharati speaking of the possibilities lying beyond the second phase said that there were several paths Cairn Lanka could take in going forward.
"Depending on the results of the second phase, there could be two or three different paths available to us, as envisaged in the Petroleum Resources Agreement. Either we can choose to proceed to the third phase, which will again require drilling a commitment well and have a time period of one to two years, or not to enter the third phase but enter into an appraisal phase followed by a development phase."
"If we opt to enter the development stage, we will have to do a detailed appraisal to establish the volume of oil or gas available in the block, which will take one to two years. Only then will we know whether the block is commercially viable," he said.
He further added that both paths had timelines clearly defined in the PRA Cairn Lanka had entered into with the Sri Lankan government, with six months to one year extension periods.
The statement released by Cairn India yesterday noted that the data, along with the results of the prior two discoveries, were being integrated to fully understand the future block potential.
In October 2011, Cairn Lanka announced that it had discovered natural gas deposits in Dorado, an exploratory well located in the SL 2007-01-001 block in the Mannar basin.
This was followed by a further announcement in November that the firm had discovered gas deposits with hydrocarbon potential in the second exploratory well, Barracuda. A third well was also drilled and subsequently abandoned as a dry hole.
Meanwhile, Sri Lanka is currently preparing to launch a second licensing round to auction more blocks in the Mannar and Cauvery basins amidst interest expressed by oil majors in the world.
(Indika Sakalasooiriya)