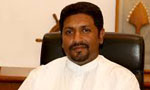 State Minister of Defence, Ruwan Wijewardene told Daily Mirror today that a new National Security Plan would be in place before the end of this year and that it was being prepared by the three service commanders and the police chief.
When asked whether Sri Lanka would obtain strategic inputs from foreign powers like the US and India and other friendly countries who have closely cooperated with Sri Lanka in defence-related matters, the state minister said this matter was discussed at National Security Council meetings but a final decision in this regard was yet to be taken.
Meanwhile, President Maithripala Sirisena has instructed the National Security Council to formulate a new National Security Plan based on the current security needs of the country with the main objective of preventing another armed uprising in the country.
After an inspection tour of the Security Forces' Headquarters at Welikanda yesterday, President Sirisena told the security forces personnel that attention would be focused on regional and national security when preparing the new security plan.
He said it would be prepared taking into account scientific and technological know-how and assured that terrorists and terrorism would never be allowed to hamper the country's progress again.
"We have a lot of respect and gratitude for our war heroes, who lost life and limb in rescuing Sri Lanka from the clutches of terrorism. The new Government places its highest priority on the country's security. Terrorism was eradicated mainly because of the discipline and commitment of the security forces personnel," the President said. "Our security forces are highly appreciated and highly rated internationally and that is why they have been chosen to serve in the United Nations Peacekeeping Force.
The President vowed to do everything possible for the welfare of the security forces personnel, who safeguarded the country's sovereignty and territorial integrity.
President Sirisena once again underscored the fact that he was not a king but a servant leader of the people.
The President Sirisena was greeted by Army Commander Crishantha de Silva and other high ranking officers on the arrival at Welikanda Security Forces Headquarters.
(Sandun A Jayasekera)