---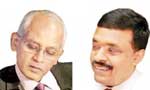 Former presidential secretary Lalith Weeratunga and former Telecommunications Regulatory Commission (TRC) director general Anusha Palpita, produced in the Colombo High Court on charges of misappropriating Rs.620 million were released on bail today.
Colombo High Court Judge Kusala Sarojini released them on a cash bail of Rs.100,000 each with three sureties of Rs.1 million each.
Mr. Weeratunga, who was TRC chairman during the tenure of the previous government, is alleged to have used funds belonging to the TRC to purchase and distribute 'sil redi' to voters during former president Mahinda Rajapaksa's election campaign.
(Shehan Chamika)
Video by Courts Prasanna