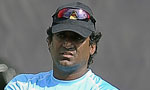 Former great Rumesh Ratnayake has agreed to take up coaching the Sri Lanka fast bowlers till the World Cup tournament starts, SLC sources told "Daily Mirror" yesterday.
Following a suggestion by Chief National Selector Sanath Jayasuriya, SLC Chief Executive Ashley de Silva had successfully negotiated with Ratnayake to obtain his services to work with the players from February 1 to 14.
Jayasuriya had discussed the appointment of Ratnayake with the national team management which had endorsed it. Chaminda Vaas would remain with the team and would guide the fast bowlers during the duration of the World Cup tournament.
Sources said that the Asian Cricket Council (ACC) under which Ratnayake is currently in employment has agreed to release him for the duration. SLC President Jayantha Dharmadasa is also the president of the ACC.
Sri Lanka team has been given a short break after the current tour of New Zealand from January 31 to February 7. However, de Silva told "Daily Mirror" that the fast bowlers will have training sessions while only some of the players have been granted the break. He said that those players who have been excused will travel to Australia for the break.
The source questioned the sanity of the move as Ratnayake would barely have time to do a miracle which Vaas was unable to do, though the appointment may cost close to an additional Rs. Two million to SLC.