---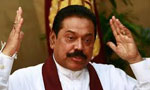 Former president Mahinda Rajapaksa said the declaration of Colombo as the fastest growing destination city by the MasterCard Global Destination Cities Index for 2015 was an achievement of his government and that it was the responsibility of the present government to maintain what his government had achieved.
Mr. Rajapaksa said after the war, his government embarked on an ambitious programme to uplift the Colombo city while prioritizing the areas such as the clearing up of waterways in and around Colombo and the proper maintenance of wetlands to prevent parts of the city going under water at the slightest rain.
The priority was given t areas such as building of new housing estates and the clearing of slums, improving garbage collection and disposal, building new parks and walkways, restoring historic and architecturally distinctive buildings, improving city roads and pavements and constructing international quality bus shelters etc.,' he said.
"I thank them all. They have done our nation proud. Maintaining what my government achieved, is the responsibility of the present government, "he said.
---
Full Statement

I note with immense pride that the MasterCard Global Destination Cities Index for 2015 has declared Colombo the fastest growing destination city among the 132 leading cities covered by the Index. CNN described the cumulative annual growth rate of over 21% achieved in this regard by Colombo since 2009 as 'staggering'.

According to MasterCard, tourism had recovered strongly after the end of the three decade long war against terrorism. Rapid economic growth and fast improvements in infrastructure are among the other reasons ascribed to the growth in tourist arrivals.

After the war, my government embarked on an ambitious programme to uplift the city of Colombo. The priority areas were; the clearing up of waterways in and around Colombo and the proper maintenance of wetlands to prevent parts of the city going under water at the slightest rain, the building of new housing estates and the clearing of slums, improving garbage collection and disposal, building new parks and walkways, restoring historic and architecturally distinctive buildings, improving city roads and pavements and constructing international quality bus shelters etc.

These improvements were among the most visible achievements of my government. This has now gained formal international recognition.

None of this would have been possible if not for the commitment and hard work of the former Secretary to the Ministry of Defence and Urban Development, the former Additional Secretary to the Ministry in charge of World Bank funded projects and the project team, the former Chairmen and staff of the UDA and the Land Reclamation Corporation, the town planners and the architects of the UDA, the Municipal Commissioners and staff of Colombo and Kotte, the environmental police, the military personnel who supervised and coordinated this effort and the Civil Defence Force personnel who participated in its implementation.

I thank them all. They have done our nation proud. Maintaining what my government achieved, is the responsibility of the present government."