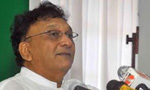 Leader of the House and Minister Lakshman Kiriella said today the voting on the increase on the Treasury Bills' threshold showed a split among members of the opposition.
"Yesterday we realised this situation in the opposition and it is clear that some opposition members are supporting the government while some are not. However every member in the opposition had assured they would support the government to secure the objectives of its 100-day programme," he said.
The minister said that according to Opposition Leader Nimal Siripala de Silva, the opposition would support the government to get the resolution approved but several members of the same opposition had voted against it.
"We don't know whether the decision was taken after discussions between two groups or if a rift exists in the opposition. But it is totally contradictory to parliamentary traditions," he said.
"The government is keen on issuing Treasury Bills and Bonds locally and raise the local borrowing threshold to meet its expenditure since Government spending has increased while the revenue has decreased because of the salary increase to government employees and the price reduction of fuel, gas and other essential items through the interim budget," the minister said.
(Chaturanga Pradeep)