---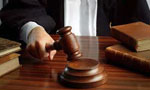 A mother of a student in Colombo seven had sent a letter of demand to the value of Rs. 260 mn following an accident which left her Grade nine son in a "permanent Vegetative state," sources said.

P.B. Geetha Chandani a mother of two children had send a letter of demand to the Principal of the leading school in Colombo 07 demanding Rs. 260 million as damages caused to her grade nine son Sasanka Jagath Alwis, who suffered permanent brain injuries and left in a permanent vegetative state since March 2, 2013 after being drowned in the school swimming pool.

Geetha Chadani of Colombo 3 and his son Sasanka had sent this letter of demand through Attorney-at-law Vishwa de Livera Tennekoon demanding a sum of Rs.260 million as damages within two weeks from December 3.

She stated that her husband died in 1999 and her son was also born on the date her husband's funeral took place.

Attorney-at-law Vishwa de Livera Tennekoon stated that Sasanka Alwis was a vibrant student engaged in not only academic work but also in various extra-curricular activities. He stated that scouting camp was held within the premises of the school organised by the School Scout troop on March 2, 2013.

On March 2, 2013 the mother of Sasanka Alwis entrusted her son to the Master in Charge of Scouting and left her son in his care.

The activities of the said scout camp had included several water related activities conducted at the School Swimming Pool, where the students were required to enter the pool.

The mother of Sasanka had been informed by persons at the said camp in the evening that Sasanka had virtually drowned in the swimming pool and that he was taken in a critical condition to the National Hospital of Sri Lanka in Colombo.

The mother of Sasanka stated the school Principal had failed to provide adequate lifesaving equipment or personnel within the premises or vicinity of the Swimming Pool.

The mother and her son maintained that the scant and callous disregard in relation to safety of students by the school principal was an act of gross negligence or a negligent omission.

She was subsequently made aware that her son was not administered first aid adequately nor promptly taken to Hospital.

She stated that there were no ambulances or medical personnel at the said camp in case of such emergency, nor were there any available vehicles to transport her son, who was in a critical condition, to a hospital for immediate medical attention.

She stated that her son was in an unstable and critical condition for over three months and treated at the Intensive Care Unit of the National Hospital in Colombo and thereafter to date was treated at the Rheumatology and Rehabilitation Hospital in Ragama with very little improvement.

She further stated that her son has remained unconscious and a permanent vegetative state from the date of the incident and remains in such state to date and his sustenance was delivered in liquid form administered through tubes inserted into him.

The mother further stated that Sasanka suffered immense pain in his permanent vegetative state and has lost all amenities of life and his expectancy of a good and useful life have diminished completely. Further his life expectancy has diminished significantly and is expected to receive medical assistance throughout his life.

She stated that that presently she was incurring a considerable sum of money as monthly expenses in caring for the child and it is estimated that she would continue to need a substantial sum of money for his care.

She stated that to date, over a year since the incident, no action has been taken by the Principal or the School to support Ms. Chandani and her son in any manner or to provide relief financial or otherwise to ease the financial burden faced due to the injuries sustained by Sasanka.

She stated that in or about September 2013, attempts made by her to seek assistance from the Principal were denied and the Principal had refused to discuss the matter any further, she said.

"In an era when the public conscience is pricked regularly by news of student deaths and incidents of negligence similar to the one faced by my clients it is expected that you and the School will do what is morally and legally correct in respect of the welfare of this child," Attorney-at-law Tennekoon stated in the letter of demand.