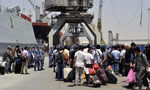 The mission to evacuate Sri Lankans stranded in Yemen was underway after permission was granted from Yemen for the Chinese Airline to use Yemen's air space, Foreign Affairs Deputy Minister Ajith P. Perera said today.
"50 Sri Lankans have already been evacuated to the Hodeidah Port in Yemen and 39 Sri Lankans who are in Capital Sanaa have been informed by our government to travel to Hodeidah Port by buses so that we would be able to evacuate all of them together," Mr. Perera said.
According to the plan, he said all the Sri Lankans who arrived at Hodeidah Port will be sent to Djibouti using ships as the first step. Later, the government will take immediate action to bring them back to the country safely by air, he said.
Following a request by the Sri Lankan government, China had agreed to assist Sri Lanka to evacuate Lankans stranded in Yemen.
The Indian government had also responded favourably to Sri Lanka's request for assistance.
(Piyumi Fonseka)