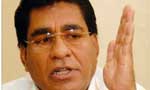 In an unexpected turn of events former Public Relations Minister Mervyn Silva said he would launch a separate campaign in support of the Ranil Wickremesinghe-led United National Front for Good Governance (UNFGG).
He told Daily Mirror that he would never betray the SLFP and pledged his support for President Maithripala Sirisena.
The former minister demanded to know from the UPFA why it had refused to nominate him for the general election.
"Most of those who have been given nominations have been summoned by the FCID or the Bribery Commission. I don't have any such charge against me," he said.
Mr. Silva said the country would be destroyed economically and the white van culture would return if Mahinda Rajapaksa and his supporters were re-elected to parliament.
"We have been SLFP supporters for generations. Even though I have many supporters in Kelaniya and countrywide, I was removed from the post of Kelaniya Organizer another appointed in my place," he said.
Mr. Silva said even though ex-president Mahinda Rajapaksa and his cohorts have taken over the SLFP, the forthcoming election will ensure the end of their political career.
He said he would campaign in Colombo, Kelaniya, Tissamaharama, Hambantota, Matara, Kalutara, Gampaha and in other districts in support of the UNFGG led by Prime Minister Ranil Wickremesinghe.
(Darshana Sanjeewa)