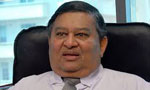 Former FIFA executive committee member, Sri Lanka's Manilal Fernando has lost his appeal against a life ban from soccer for bribery and corruption, media reports said.
The Court of Arbitration for Sport said Monday its panel has dismissed Fernando's challenge to the ban.
Fernando, a Sri Lankan who is a former ally of Mohamed bin Hammam, was banned for life by the FIFA appeals committee in October 2013 for multiple ethics violations.
FIFA never specified details of the case, though cited code of ethics rules relating to bribery, conflicts of interest and accepting gifts.
FIFA ethics judge Joachim Eckert had suspended Fernando for eight years. That sanction was challenged by then-FIFA ethics prosecutor Michael Garcia, who sought a life ban.
Fernando was a FIFA regional development officer, overseeing funds distributed by a panel chaired by Bin Hammam, when Asian member federations elected him in 2011 to join the governing body's executive committee.