---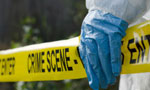 A 30-year-old man was found severely beaten at the Union Place bus halt in Slave Island last night, the Police said.
Police said that an argument over a personal issue had led to the fatal assault.
The victim, a resident of Vauxhall Street, Colombo had succumbed to his injuries after he was admitted to the National Hospital.
A 45 year old suspect living in the same premises was arrested last night, the Police said. He is to be produced before the Fort Magistrate today.
(DS)