---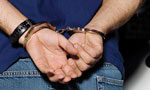 Six people including two Ministerial Security Division (MSD) Officers, assigned to Minister Mervyn Silva, were arrested today by the Colombo Crime Division in connection with the alleged assault on a Scottish national and his girlfriend at a nightclub recently.

Police said those arrested were alleged to have joined Minister Silva's son Malaka in the assault on the foreign couple.

They said investigations had revealed that the two MSD officers -- a Police Sergeant and a Police Constable had accompanied Malaka into the nightclub.
A salon owner, a businessman, a chef and one of Malaka's bodyguards were also among those arrested who were to be produced in the Hulftsdorp Magistrate's Court today.