---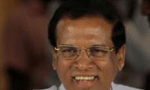 Opposition Common Presidential candidate Maithripala Sirisena said the country cannot be charged with war crimes in the International Criminal Court, but he will launch a domestic inquiry if he wins a January election.
Maithripala Sirisena said in a policy statement on Friday that Sri Lanka has not ratified the statute that established the international court, and that he would therefore institute an investigation by a local independent court.
Mr. Sirisena is challenging President Mahinda Rajapaksa for the presidency.