---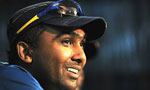 Senior stalwarts Kumar Sangakkara and Mahela Jayawardene had mixed emotions after their team suffered an early series loss against India with two games to go in the five-match ODI series.
Sangakkara, who flew back home stated that he was making an unwilling exit from the tour, despite the fact that he was being rested while Jayawardene stressed that he was willing to take back the role of an opener after Sri Lanka constantly failed to make a sound start in the ended three ODIs.
"Letting me open batting for Sri Lanka is up to the selectors to decide. I really would like to open. I have always wanted to open ever since the 2007 World Cup and even made a request to the selectors of my consent. That's where I have made the maximum as a batsman. The management wanted me to be there in the middle order because we are yet to settle in, in that area. Let's hope that our middle order would click and I get back to open during the remaining days of my career," Jayawardene stated prior to Sri Lanka team's departure to Kolkata from Hyderabad.
Sri Lanka lost the first game heavily by 169 runs at Cuttack and the next two games at Ahmedabad and Hyderabad, the Indians won by a margin of 6 wickets at both occasions to wrap up the series early.
Sangakkara, who scored 13, 61 and a rare golden duck was of full praise for his compatriot, after being forced to take a rest ahead of the 7-match series against England later this month back at home.
"Mahela batted beautifully especially in the last game. It's important that whoever is staying keep on performing."
But he is well aware of the fact that beating India in their own backyard is a daunting task, while expressing his ways of remedies for the sudden setbacks Sri Lanka has now faced. With the England series coming up he stated that the team needs to buckle up their shoes and get back to the usual winning trend.
"We always knew it's going to be a tough tour with the preparations we had. But we are still playing below par and we still need to get our rhythm back, we need still need to get back to our standards. Even though we lost the series 3-0 at the moment, even if we managed to get competitive in the last two games, we need to focus on the England tour at home. So I think that's the real focus."
"It's always hard work to beat a side in their home soil. When we look back there's nothing to do with the mental status of a team. It's just we were not up to it. They are well seasoned playing under home conditions. If we look back, not only Sri Lanka, others too have struggled. But taking on India somewhere else in the world is a different ball game," he added while pointing out the fact that Sri Lanka needs to do more additions other than playing their hearts out in the middle.
"We always are keen to beat a side on their own soil. But keenness altogether is not enough; we should have a better game plan, a better mindset, a better preparation to do so. It should be a prime aim when we go out to play another team away, especially in India."
Meanwhile Jayawardene, who surpassed his personal milestone of 12,000 ODI runs after his first century for 2014, was more focused on helping the youngsters around him with the aim of winning the remaining two games.
"When we plan out a game we have faced problems in implementing them and it has been our setback in the three games played so far. It's just that nothing has come in our way so far in this tour. We need to look seriously into it and try to make suitable corrections. You need to look at situations differently and maturely when you are a senior player. You cannot be selfish aiming at records. Though I reached an important milestone in my career and won a man-of-the-match award, it's not pleasing to be in the losing side," Jayawardene stressed.
Sri Lanka will play India in the fourth ODI at the Eden Gardens in Kolkata before the two sides take on each other in the final game at Dhoni's hometown Ranchi. In place of Sangakara, Upul Tharanga, Suraj Randiv and Dhammika Prasad, Sri Lanka flew in Lahiru Thirimanne, Dinesh Chandimal, Ajantha Mendis and Shaminda Earanga for the remaining two ODIs.
India has rested Shikhar Dhawan, Ravindra Jadeja, Amit Mishra, Wriddhiman Saha, Ishant Sharma, M Vijay, Varun Aaron, Mohammed Shami and brought in Rohit Sharma, Robin Uthappa, Karn Sharma, Vinay Kumar and Kedar Jadhav. (Naushad Amit reporting from Hyderabad)