---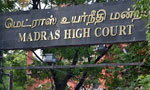 The Madras High Court on Thursday had permitted the Dravidar Viduthalai Kazhagam (DVK) to hold a meeting to commemorate 'Heroes Day' in remembrance of slain LTTE cadres who have laid down their lives for the rights of Tamils in Sri Lanka, the Hindu said.

The petitioner, C. Ramamurthy, town secretary of the DVK, submitted that he was conducting the commemorative meeting on November 27 for the past 10 years. But his application to hold the meeting this year was rejected by police.

When the petition came up for hearing before Justice M.M. Sundresh, citing Supreme Court direction on similar issues, the judge allowed the petition. He also pointed out that the petitioner is proposing to hold the meeting on a private land and not in a public place.

The judge allowed a similar petition moved by P. Bharathi of Naam Thamizhar Katchi. "The permission for the meeting is sought for only one day and the authorities can very well regulate it by fixing the time and venue. It is now agreed that the meeting can be held at Palanisamy Grounds Situated in Alamoor. Therefore, the respondents can very well regulate the meeting by imposing the conditions, including the time and manner in which the meeting has to be conducted," Justice Mr. Sundresh added.