---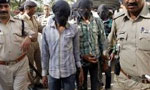 Two persons including a Sri Lankan refugee was arrested by the Kottakuppam police in India on charges of abducting and raping a minor girl at a refugee camp in Keezhputhupet near Puducherry.
According to police, the 13-year-old girl was returning home after attending a local temple festival when R. Bala (33) and K. Prabhu (22) of Anichikuppam forcibly abducted her. They took her to a casuarina grove and raped her.
The girl was admitted in a hospital for medical examination. The victim's parents lodged a complaint with the Kottakuppam police who nabbed the accused.
Police said Bala was a former inmate of a Sri Lankan refugee camp in Tiruvannamalai and was staying in Annichikuppam.
The duo were produced before a Magistrate and remanded to custody.
(The Hindu)