---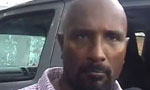 Controversial Frontline Socialist Party Central Committee member Kumar Gunaratnam, who was evading authorities for over nine months, was nabbed by the Police in the Anguruwella area in Kegalle this afternoon.
Gunaratnam, who had been overstaying his 30-day tourist visa since January 31, was arrested by a special team sent from Kegalle Police station, whilst secretly remaining at a relative's house in Anguruwella.
The controversial political activist who decided to go underground once the local authorities rejected his plea to remain in the country for activism, was brought to the Kegalle Police station around 2.00 p.m. today.
(Kurulu Koojana Kariyakarawana)