---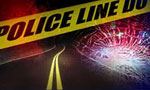 Six persons had been killed and 17 were injured in five separate accidents in the past 24 hours in several places in the country, the Police said.
A 58-year-old motorcyclist was killed when a van crashed on him in Chilaw on the Chilaw-Puttamal Road. He succumbed to his injuries on admission to the Chilaw Hospital. The driver of the van has been arrested by the Chilaw Police.
In another accident a motorcyclist was killed on the spot of an accident in Suriyawewa, when a tractor crashed into his motorcycle. The deceased was identified as a 43-year-old resident of Hambantota. The Suriyawewa Police have arrested the driver of the tractor.
Ten women and four men were admitted to the Badulla Hospital when a bus they were travelling in collided on another bus on Passara-Badulla Road. Both vehicles were reported to be private buses.
Meanwhile, a one year old baby boy, a 10-year-old boy and an adult had been killed and three more were injured when a lorry crashed onto a three-wheeler in Pothuhera, the Police reported.
In a separate accident a 49-year-old man was killed in Walkammadu, Sammanthurai, when his motorcycle lost control, according to Police.