---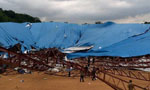 Death toll in the church collapse in Nigeria's Uyo has risen to 160 and the number is likely to rise. While cranes are still at work trying to lift the collapsed metal girders and corrugated iron sheets under which hundreds of people were trapped, the mortuaries in the city are overflowing with the dead bodies, the International Business Times reported.
The roof of the under construction building came crashing down on worshippers on Saturday as they were attending the ordination of a bishop.
Akan Weeks, the founder of the Reigners Bible Church International who was to be ordained as bishop at the ceremony, escaped unhurt. Akwa Ibom state Governor Udom Emmanuel, another worshipper present in the church when the roof collapsed, also escaped without being injured.
The Governor's office said an inquiry will be conducted to assess if building standards were compromised.