---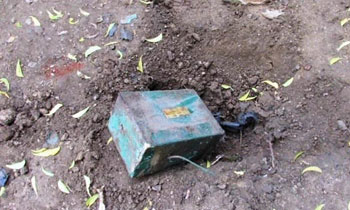 A high powered explosive device had been recovered from a house compound in Ukkulan Kulam Vavuniya, today, the Vavuniya Police said.
"The bomb weighing 15 kg and 150 g has a mark 'Captain Bavan (Aiya) 99," an officer said.
The bomb had been recovered when the resident tried to excavate his garden. Finding the mystery device the resident had alerted the area Police, who in turn brought in the Bomb Squad to de-fuse it and take it into their custody, sources said.
Speaking to media a spokesman for the Vavuniya Police said that the bomb could be made by the decimated Liberation Tigers of Tamil Eelam (LTTE) during the height of war to target important personalities.
"The LTTE habitually used such bombs when targeting VIPs," he said. (Romesh Madushanka)