---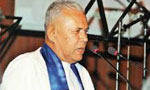 Former deputy Minister of Buddha Sasana M.K.D.S Gunawardene who had been stripped of all positions in the SLFP had arrived this morning at the SLFP headquarters and allegedly created a scene, SLFP said in a statement.
Gunawardene who had expressed his support for the common candidate through the media had subsequently been removed from all positions he held in the SLFP.
When he visited SLFP headquarters those who were present there had objected to his presence and staged a protest saying that those who had betrayed the party by fraternising with the opposition were not required by the country. Gunawardene had then taken a swipe at those members and scolded them being annoyed by their comments, it added.