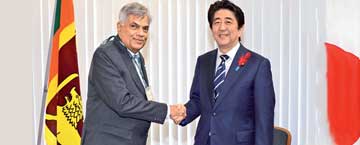 In the wake of a request made by the Japanese Prime Minister, Sri Lanka is likely to obtain the services of a Japanese judge for the investigation into alleged human rights violations during the armed conflict.
In a statement on his recent visit to Japan, Prime Minister Ranil Wickremesinghe told Parliament that his Japanese counterpart Shinzo Abe had informed him that it would be best of Sri Lanka to obtain the services of Japanese Judge Moto Noguchi who had participated in the investigations carried out by the Missing Persons Commission headed by retired judge Maxwell Paranagama.
He said the Japanese Premier said Mr. Noguchi worked in Sri Lanka before and had also participated in war crimes investigations in Cambodia.
Mr Wickremesinghe recalled that it was former president Mahinda Rajapaksa who had obtained the services of Mr Noguchi to advise Commission last year.
He said the Japanese Prime Minister had also assured his support for a domestic truth commission.
Mr. Wickremesinghe said Japan had welcomed the balanced foreign policy of Sri Lanka and pledged assistance worth 45 billion yen to develop the Bandaranaike International Airport at Katunayake and convert Sri Lanka into an aviation hub while enabling the transfer of technology.
He said the two leaders had also discussed defense activities in the Indian Ocean.
(Yohan Perera and Kelum Bandara)