---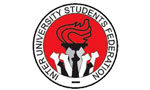 The Inter University Students Federation (IUSF) said today that it would take forward their struggle to win their demands in a joint protest campaign with all the other organizations including farmers, fishermen and labourers as all of them had had to face the same suppression by the government.
"We have fought for our rights together with all civil society organization in the past as well. Not only students but all the people have had to face the same consequences in our attempts to win our rights. Fishermen were attacked and killed while they were staging a protest to win their rights and a protest organized by the fishermen was attacked a few days ago. This government's tactics have been made very clear from these attacks, IUSF Convener Najith Indika told a news conference today.
Commenting on yesterday's attack on an IUSF protest march, Mr. Indika said that they had organised the joint protest march with the participation of all the universities because they had not received solutions to any of their demands despite continuous protests and signature campaigns that had been launched during the past couple of years.
"We organised this protest to get solutions to the issues concerning to the ordinary people including the abolishing of private universities, including the one at Malabe, urging the authorities to increase the Mahapola Scholarship to Rs. 5000 and to stop the sale of external degrees for money. The university in Malabe is facilitated to obtain a medical degree for rich students who can afford Rs. 12 million even without passing the A/L exam. The government was trying to bring the education system to that sort of stage. These issues cannot be solved through discussions and we need to struggle to get solutions to them," he said.
Mr. Indika said that the Mahapola scholarship, which was worth Rs. 2500, had not been increased since 2005 and that this had led to most of the students having to resort to odd jobs like hotel waiters or helpers to masons in order to continue their studies. He said that 20 students were injured in yesterday's police attack and that 12 of them were hospitalised while two students were still receiving treatment.
Police used tear gas and water canons to disperse university students as they entered the Parliament Road yesterday. (Ajith Siriwardana)