---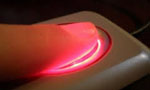 Fingerprints of some security personnel and those of 74 workers engaged in renovating the Colombo Museum were taken by the Cinnamon Gardens police during the investigations into force-opening of a Gallery door in the Museum.
They said the fingerprints would be matched with the four fingerprints and the palm print which were removed from the location.
Further investigations would be carried out after the fingerprints are identified.
Police said statements from 22 people were recorded in connection with the incident.
A door in one of the Museum Galleries displaying clothes and clay pots was found broken-open last Monday (17). (Chaturanga Pradeep)