---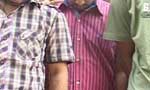 With the arrest of three persons, including two Sri Lankans, the Delhi Police Special Cell claimed to have busted an international drug syndicate operating from Chennai which supplied heroin to Sri Lanka by concealing it in processed food tin cans.
In a joint operation with the Chennai Police, the Delhi Police Special Cell also seized heroin worth Rs.50 crore in the international market.
According to Deputy Commissioner of Police (Special Cell) Rajeev Ranjan, during interrogation of those arrested in a similar operation this July, the police came to know about one Mailu Perumal, a Chennai resident who was the main link for the foreign-based drug mafia.
"We had arrested six persons back then who disclosed that they were being led by Perumal. Over the next few months, one of our teams led by Assistant Commissioner of Police Manishi Chandra engaged themselves in locating this operator in the suburbs of Chennai. The efforts bore fruit when a specific input was received that Mailu has accumulated a large consignment of heroin in a house in Chennai which was to be received for onward trafficking by some Sri Lankan nationals," said Mr. Ranjan.
The Sri Lankan nationals, said the police, had come to the country for the purpose of trafficking. Based on a tip-off, a team of officers was dispatched to Chennai. On Saturday the team arrested Perumal and the two Sri Lankans identified as Jawzeek M.R. and Mohammad Razik.
"Approximately 16 kg of fine quality heroin was concealed inside processed food tin cans, mainly those containing fish products," said Mr. Ranjan.
The accused purportedly disclosed that the heroin was smuggled into India from Afghanistan via Pakistan using the porous borders along Jammu & Kashmir, Punjab and Rajasthan before it was supplied in Sri Lanka.
The Special Cell has been working on trans-national narcotics syndicate for the last few months. It has seized approximately 130 kg of heroin worth approximately Rs.400 crore in the international market. (The Hindu)