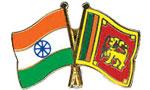 Trade between India and Sri Lanka has increased 10-fold after the Free Trade Agreement. But there is more to be explored, said Y.K. Sinha, High Commissioner of India to Sri Lanka.
At an interactive meeting organised by the India-Asean-Sri Lanka Chamber of Commerce and Industry here on Thursday, he said his concern was that more than 70 per cent of India's exports to Sri Lanka were outside the FTA route. "This needs to be addressed." Bilateral trade between the two countries stood at $4.6 billion in 2014.
Mr. Sinha indicated that once the 250-MW power plants built by India went live, the island nation would have added capacity. "Once we are surplus we can have energy trade between the island nation and Tamil Nadu," he said. For this, he said, submarine cables need to be installed with the support of the Government of India and Tamil Nadu.
Potential investments
Talking about the potential investments, he said, "Tamil Nadu should look at Northern Sri Lanka. The environment has changed there." He also elucidated the immense opportunity in technical education and the IT & ITES sector.
"IT is one area where the island nation has missed the bus. India and Sri Lanka share the same time zone. This should be tapped for IT and ITES-related services," he said.
The High Commissioner to India also said "Things have changed with the change in government."
(The Hindu)