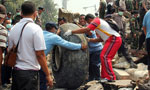 An Indonesian military aircraft with 113 people aboard crashed into a neighborhood in the city of Medan on Tuesday, according to the head of the country's air force. Forty-nine people were confirmed to have been killed, but the toll appeared certain to rise.
Air Chief Marshal Agus Supriatna said in a televised interview that there were no signs of survivors from the crash of the C-130 Hercules. He said that 101 of the people on the plane were family members of military personnel. Twelve military personnel were also aboard, he said.
It was unclear whether people on the ground in Medan, a city of two million on the island of Sumatra, had been killed. Images carried on local television and posted online showed onlookers gathered around burning buildings at the scene of the crash, with several ambulances and fire trucks trying to make their way through the crowd.
Air Chief Marshal Agus said the crash occurred shortly after the plane took off from the Soewondo air base in Medan. The pilot had asked for permission to return to base, he said.
The plane was making a routine flight, with multiple stops scheduled. "It's normal for family to be transported on these flights," said Gerry Soejatman, an Indonesian aviation analyst.
The Indonesian Air Force has had five other plane crashes over the past 10 years, with 155 people killed, according to the Aviation Safety Network website. The deadliest was the 2009 crash of a C-130 near the city of Madiun in East Java that killed 97 passengers and crew members and two people on the ground. That plane hit several houses on its approach to the runway.
Indonesia has a troubled history of air safety, including several crashes in and around Medan. In 2005, a Boeing 737-200 operated by Mandala Airlines, a low-cost carrier, overran a runway during a failed takeoff there, killing 100 passengers and crew members and 49 people on the ground.
An Airbus A300 flown by Garuda Indonesia crashed on approach to Medan in 1997, killing 234 people. Miscommunication between the pilots and air traffic control and a thick haze caused by forest fires were blamed in that crash. In December, Indonesia AirAsia Flight 8501 crashed in the Java Sea on a flight from the Indonesian city of Surabaya to Singapore, killing all 162 passengers and crew members aboard.
In April, an F-16 fighter jet burst into flames on a runway at an air base in Jakarta, the capital. It was one of five F-16s that arrived from the United States last year. The Indonesian Air Force said at the time that it was grounding the four other jets while the cause of the accident was investigated.
Mr. Soejatman, the aviation analyst, said the military had complained in the past that an American arms embargo, which was put in place in response to abuses in East Timor, had harmed its ability to maintain aircraft. But that embargo was lifted in 2005 and is no longer a valid excuse, he said.
"We have to look at why this is happening," he said. "Back then it was easy to explain. Now we do not have an embargo. We have to see if this is because of a problem or if this was just a mishap."
The C-130, an American-built four-engine turboprop, is a workhorse cargo and passenger aircraft for militaries around the world.
(New York Times)