---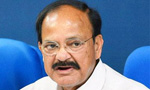 India on Tuesday conveyed the 'sensitivities of Indian public' to Sri Lanka over the detention of country's fishermen in international waters, days after five Indian fishermen were given death penalty in the island nation for alleged drug trafficking.
Indian Urban Development Minister M. Venkaiah Naidu, who is in Seoul to attend the 5th Plenary Session of Asia Pacific Ministerial Conference of Housing and Urban Development, raised the issue during his bilateral meeting with Sri Lankan Minister for Construction Engineering Services, Housing and Common Amenities Wimal Weerawansa.
During the meeting, Naidu also raised the issue of detention of Indian fishermen in international waters.
"He emphasised that he is neither complaining nor interfering in the internal issues of Sri Lanka but is conveying sensitivities of Indian public," an official statement said.
The five fishermen, hailing from Tamil Nadu, were apprehended in 2011 by Sri Lankan Navy on charges of smuggling drugs. They were among a group of eight people sentenced to death by the high court in Colombo.
The fishermen had been arrested on a boat in the seas off northern Jaffna's Delft islet. (Outlook India)