---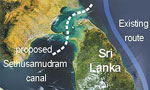 BJP leader Subramanian Swamy on Thursday has warned the NDA government against reviving the UPA's Rs 25,000 crore Sethusamudram channel project, which was meant to make Palk Strait navigable for bigger ships to save them from circling Sri Lanka while travelling from India's one coast to the other, the Economic Times said.

A bench of Chief Justice H. L. Dattu and Justice Arun Misra adjourned hearing in the controversial case after additional solicitor general Pinky Anand said the Centre needed time to respond to the issue raised in the case over the years. Justice Misra also recused from hearing the matter.

The court by an interim order in 2007 had stayed dredging of Ram Sethu or Adam's Bridge on petitioners' plea that it had immense religious value for Hindus. Swamy told the bench that he had no objection to the Centre filing a fresh affidavit. "But the Centre cannot change its stand. It had declared on the floor of Parliament that it was going to scrap the project," Swamy said as the SC adjourned hearing in the matter.

On December 1, 2014, shipping minister Pon Radhakrishnan had told Rajya Sabha, "Centre is keen to explore the possibility of alternative route for SSCP through Pamban Pass by avoiding the Ram SethuAdam's Bridge area and RITES has been entrusted with the work of undertaking pre-feasibility study on that area. RITES has submitted the report." RITES had said, "The major constraint in the Pamban channel is the narrow and shallow channel between the two coral reef islands of Pullivasal and Krusadai."