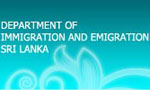 With the government's decision to reintroduce dual citizenship status to nine countries, the Department of Immigration and Emigration had already received about 10 such applications by yesterday.
A senior Immigration official told the Daily Mirror that since Monday the department had received applications which were being subjected to examination.
Minister of Public Order, John Amaratunga announced on Monday that the issuing of dual citizenship which had been suspended by the previous regime since September 2011 was recommenced and that anybody could apply.
As a result a person whose citizenship of Sri Lanka has ceased under Sections 19, 20 and 21 of Citizenship Act No. 18 of 1948 or a person whose citizenship in Sri Lanka is likely to cease, can apply for a dual citizenship.
But the applicants have to be from any of the nine countries, USA, Canada, Australia, New Zealand, UK, France, Sweden, Switzerland and Italy to apply for a dual citizenship.
Those were the only countries that had consented to its citizens having dual citizenship with Sri Lanka.
The status will be issued under two categories as resumption and retention. Under resumption, a person whose citizenship in Sri Lanka which had ceased due to obtaining a citizenship of another country, could resume the status of citizenship in Sri Lanka.
Anyone who intends to obtain citizenship could retain his Sri Lankan citizenship by applying through the retention. The details on the criterion for applications could be obtained from the website www.immigration.gov.lk
(Kurulu Koojana Kariyakarawana)