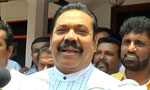 Former President Mahinda Rajapaksa today said that if he was going to contest an election in the future it would only under an alliance led by the Sri Lanka Freedom Party.
He said he didn't want to contest from any other political party, despite several other political parties inviting him to do so. "Those parties have the right to make such a request from me," the former President told the media after a meeting with a group of UPFA provincial councillors at the Abhayaramaya in Narahenpita yesterday.
Excerpts from the dialogue:
Q: The SLFP has joined to form a National government. You are also an advisor of the SLFP?
A: No one listens to me, so what should I do? Is this called a National government? This is a coalition. Is the JVP also in this?
Q: What do you think about a group of SLFP MPs accepting ministerial portfolios?
A: You should ask that question from them.
Q: You haven't received the official residence yet?
A: It would be given.
Q: The MPs who were to support you, have taken ministerial portfolios. How do you feel?
A: All are supporting me. No one is against me. Who are against me? Just name anyone, then I can inquire from him. As far as I am concerned no one is against me. How can those who were with me for several years go against me?
Q: A person, who was with you for a long period left you?
A: Who?
Q: The current President.
A: Yes, but he became the President. If it is good for him, I am very happy.
Q: Ready to contest?
A: For what?
Q: An election?
A: There should be an election to talk about elections or contesting. I am at this moment enjoying a political break.
(Indika Sri Aravinda)

WATCH