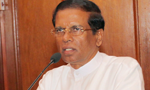 President Maithripala Sirisena today entrusted the power to make a final decision on the executive presidency to the members of parliament.
He assured parliament that the new government would enact electoral reforms, adopt an Asia-centred non-aligned foreign policy and achieve economic development through an environment-friendly, knowledge-based thorough an innovation-driven approach.
The President said he had been able to set up a national unity government between the two main parties on similar lines of the government formed in South Africa after the end of Apartheid.
He said it was a departure from a culture of coalition governments between one major party and a few other small parties.
The President said such a government would have been ideal immediately after the war was over, but it was not to be. He said this government hoped to achieve socio-economic development based on modern trends within the next five years.
The President said he would seek to incorporate his basic policies presented to people at the January 8 presidential election, with the policies outlined in the manifestos of the United National Front for Good Governance (UNFGG), the United People's Freedom Alliance (UPFA) and the Janatha Vimukthi Peramuna (JVP).
He said the introduction of a new electoral system and the abolishing of the preferential voting system would be a priority of this government through the 20th Amendment, presented to the previous parliament, as the launching pad.
Referring to post-war reconciliation, he said it was up to the members of the legislature to take political decisions and enact measures with the intention of fostering a true Sri Lankan identity .
The President said it was the duty cast upon the legislators to decide whether the country should persist with the executive presidency or the powers transferred to parliament.
The President also assured that as Minister of Defence he would protect Sri Lanka's sovereignty and territorial integrity.
Describing Asia as a key global player in the 21st century, he said the country's strategic geographic location would be harnessed fully for its benefit.
The President said he would not hesitate to take action against those who abused state resources irrespective of their status of position. This assurance was welcomed by government members who thumped their desks in agreement.
He said the a economic model based on the teachings of the Buddha would be used as a guideline in the pursuit of economic development.
(Kelum Bandara and Yohan Perera)