---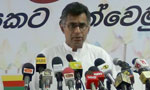 The household income of the economy which at around 45% of the Gross Domestic Products (GDP) in the past has started plummeting at an alarming rate during the past few years and was at a critical 35% in 2013 according to Department of Census and Statistics, JHU General Secretary and ex-Minister Patali Champika Ranawaka said today.

"About a decade ago the GDP and household income grew at parallel rates close to 7% but in 2013 while the GDP growth was at 7% the increase in household income stood at a mere 0.3%" the ex-minister said adding that there had been a steady decline in the household income as a percentage of the GDP during the past few years.

Addressing an opposition media conference in Colombo, Mr. Ranawaka said "The Statistics Department figures show that in the year 2013 alone some Rs. 700 billion which should have gone to households have been plundered thus depriving each and every family Rs.140,000 of what they should have got in the year".

"It's anybody's guess who would have robbed the people of their deserved share of economy. The average citizen has been forced to scrape the barrel while the leaders of regime and their cronies indulged in lap of luxury" he added.
Video by Sanath Desmond