---
Every year, Glamour Magazine honors a group of women ranging from future astronauts to fencers on its list of Top Ten College Women. This year, Harvard's very own Inesha N. Premaratne '15 and Ishani D. Premaratne '15 were recipients of the award.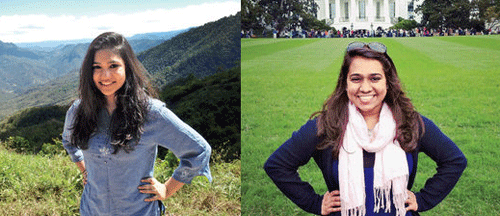 Born in Hawaii and having spent most of their childhood in Sri Lanka, Inesha and Ishani Premaratne are twin sisters from Richmond, Virginia, the two were recognized for their project "GrowLanka," an SMS system that alerts unemployed workers in Sri Lanka about job openings. Inspiration for the idea came out of a class the two were taking during their freshman fall, which had students deconstruct a social issue and explore different ways to solve those problems.
The following January term, Ishani and Inesha both visited Sri Lanka and went straight to work, conducting ground research by interviewing people. "Both of us grew up with one foot in the United States and foot in Sri Lanka," Ishani said. "We toured a lot of the factories that had just opened, we talked to a lot of NGO people, we talked to anybody we could and consistently the major thing we found in the labor market itself were these search frictions," Inesha said.
Following the civil war in Sri Lanka, which ended in 2009, there was a major shortage in human capital networks. "We decided to leverage the incredibly high mobile penetration and created a really simple SMS system… [It] was unique because there's not a system there that only leverages SMS." With the help of Harvard funding, they worked with Sewalanka, one of Sri Lanka's chief NGOs, to bring the idea to life. The pair have since been able to keep their project alive, even partnering with the Sri Lankan government.
Speaking of the Glamour honor, they said it was definitely a surprise. Inesha said that "It was nice because they made a point to give it to the two of us but also to honor us separately, which is really important to me." As twins, they're used to the competition but said that they were never really competitive with each other. "We're very different, and our roommates would tell you that us staying in the same room for too long is probably not a good thing," Ishani said. "We complemented each other." What would have happened if only one of them had won? "It would have been super awks."
As one of Glamour's Top Ten College Women, and definitely a woman to admire, Ishani's advice to Harvard women is "not lose that curiosity and thirst to learn more about your fellow Harvard women."
"Enjoy the many different seasons the Harvard education gives you," Inesha said. "I think there's a hesitancy to take a risk at Harvard—go off the beaten path and try new things. Take risks when you're in college. Go listen to people for a month and they will tell you what they want. Go outside of your sphere of reference."